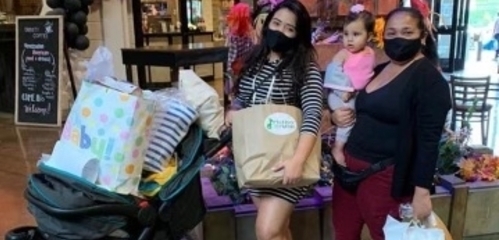 In Middle Tennessee we have seen many pregnant mothers who are facing difficult choices in regard to their pregnancy.
During these difficult economic times, the anxiety and fear surrounding bringing a new baby into the world isn't something that they should have to face alone. The HFF Community Baby Showers were birthed in response to this need!
Our HFF Community Baby Showers serve women in Middle Tennessee's underserved community where they are not only celebrated, but are also given the tools, resources, community, and education by healthcare professionals.
For most of these women, the difficult choice of spending funds on baby necessities or putting food on their families' tables is just not an option and their babies do not have what they need to thrive. It's our dream that every mother feels supported by a community who cares whether she has the things she needs to keep her baby safe, nurtured, and healthy!
We strongly believe that no matter where the mother has come from, or what her story is, her child is the next generation of Nashville. Help us not only welcome this next generation, but also strengthen and unify the next generation of Nashville as a whole.
Will you support our mothers at the baby showers?