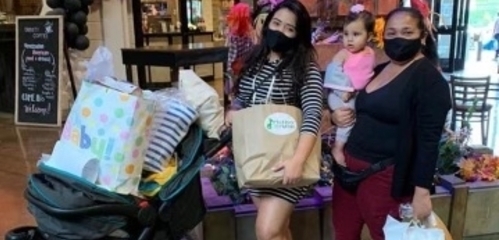 The Community Baby Shower is a free baby shower for women in need done in partnership with Mother to Mother and Nashville Diaper Connection. Women are given baby items and necessities for both mother and baby. Health professionals educate the women on safe baby practices and women's health issues.
When women began to walk through our doors who were pregnant and in need because of the job losses the heads of household suffered, we decided to create Community Baby Showers to make sure they had what was necessary to bring their babies home from the hospital and ensure safe sleeping. We provided each woman with a babystroller carseat combo, diaper bags, clothing, baby necessities, and blankets with the help of our wonderful partners and sponsors. Last year over 400 women attended the Community Baby Showers and were blessed with all of the things they needed.
Attendance at the last event was 200. At our Community Baby Showers, as much as we love celebrating with food, dance, and games, we really love pampering these moms. It's our dream to have every mother go home with not only a stuffed diaper bag, but also their own stroller/car seat that's up-to-date so they can drive safely with their baby!
Will you donate towards 2022 Baby Showers?